Good morning, and welcome to our rolling coverage of the world economy, the financial markets, the UK's supply chain crisis, and business.
The energy crunch is intensifying, driving up costs for households and businesses, and sending inflation fears rippling through the markets.
US crude has hit its highest level since 2014 this morning, extending its recent rally, amid tight supplies, rising demand, and the rocketing gas price.
A barrel of US crude touched $79.40, a new seven-year high, while Brent crude has hit a three-year high of $83 per barrel.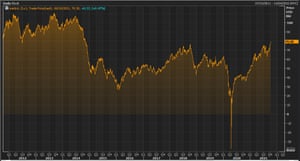 The recent surge in the oil price is making investors jittery, especially after the Opec+ group is resisting pressure to ramp up its production.
Naeem Aslam of Think Markets…